Happy Friday!! Today I'm linking up to the massive
Oct. 28 Follower Fest
, so I'm going to share some things that have really made my autumn enjoyable (despite the not-so-cool weather here in Vegas).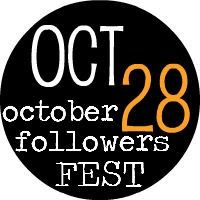 This fall, I carved pumpkins with some friends. But of course!

It was a Harry Potter themed carving, with my new Time Turner necklace, courtesy of Sarah from
A Lost Feather
. I'm such a nerd. Oh well. Deal with it.
Though it may not be very cool outside just yet, I've still been loving snuggling up in a warm bed with kitty, Anya and a great read (Matched!).

Speaking of snuggling in beds, I've also been wearing a lot of pajamas. Gotta stay cozy!

And last, but not least, I have been baking quite a bit this season! I made my first pie (pumpkin) and tried lots of other recipes. And also documented it with my pretty instax camera!